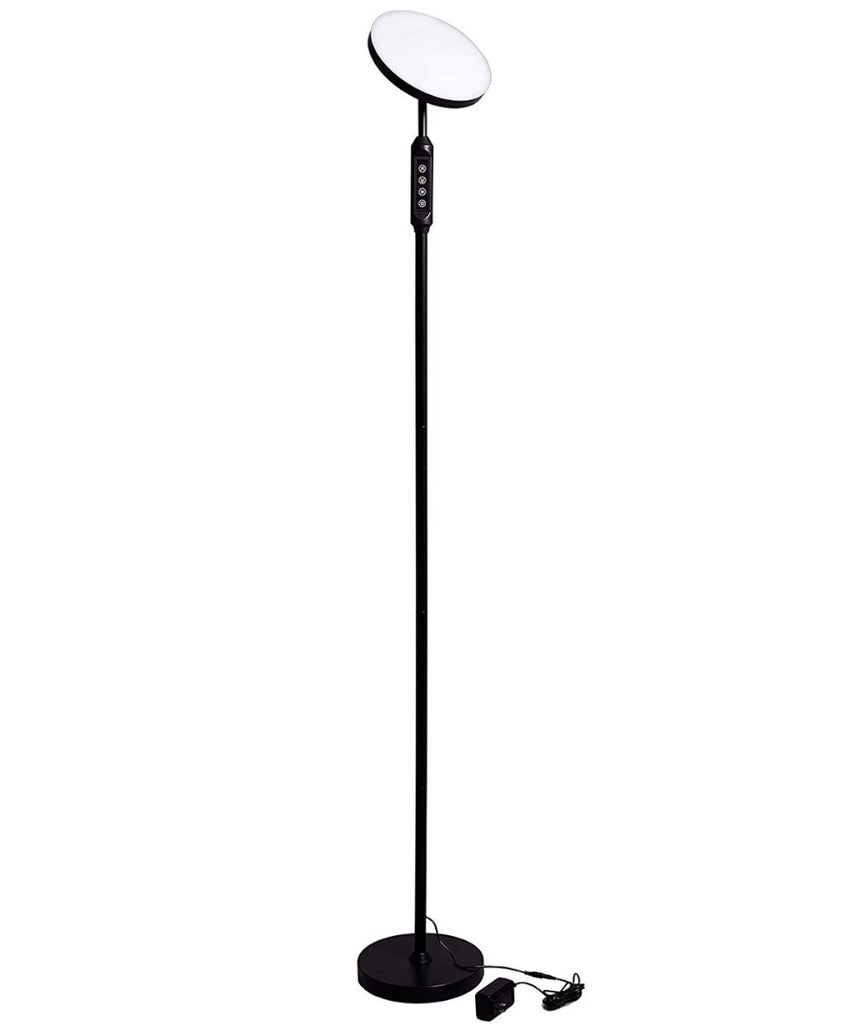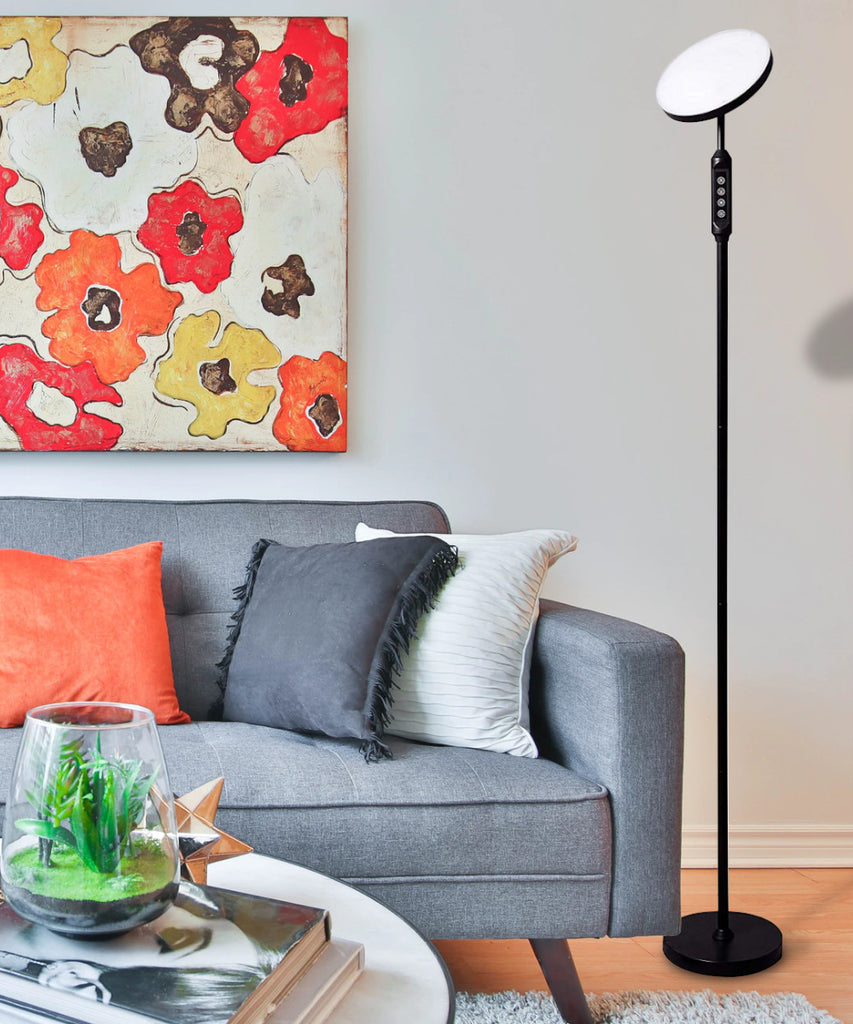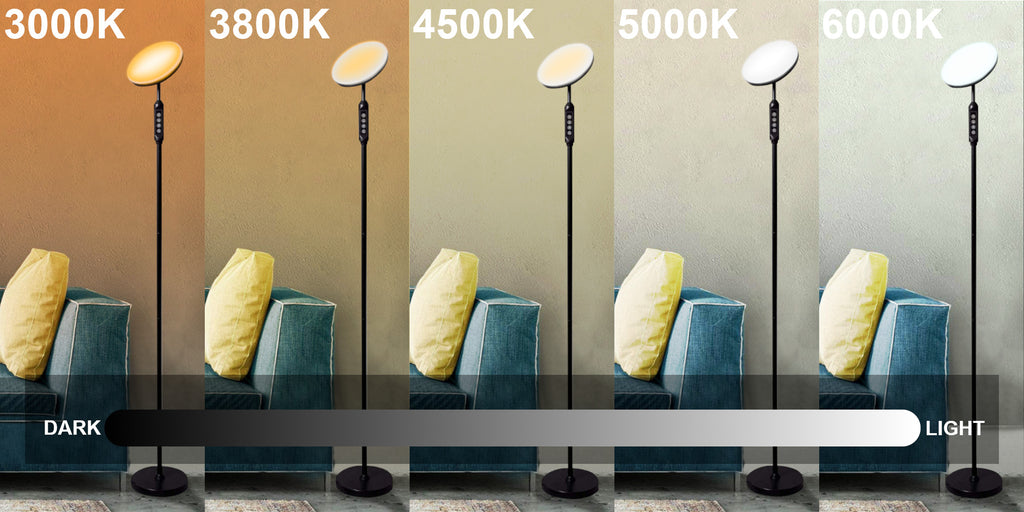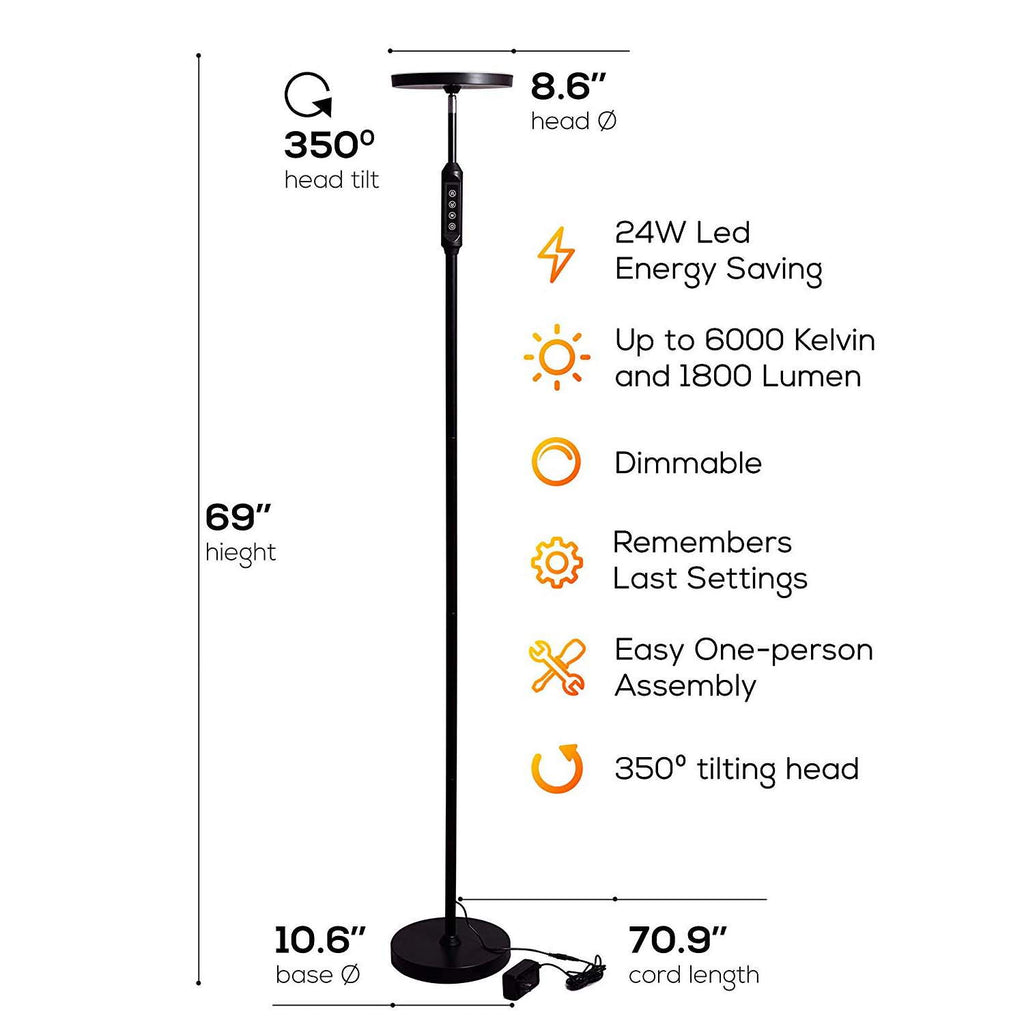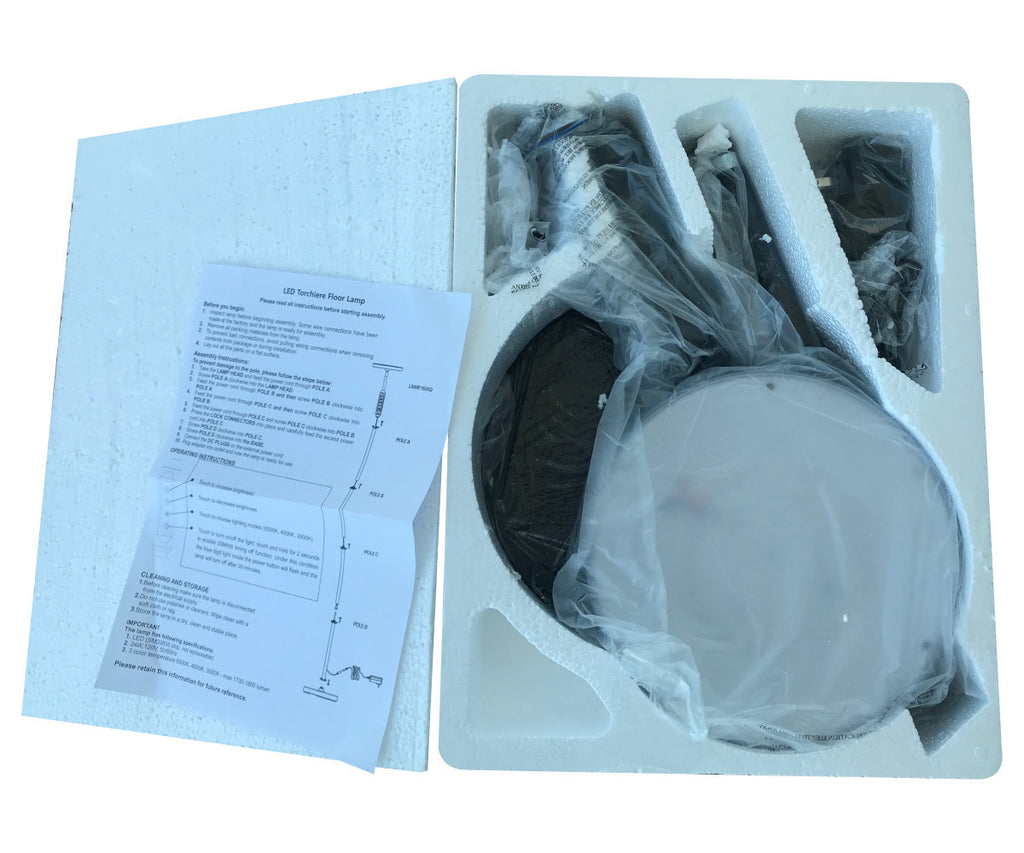 SUPER BRIGHT LED FLOOR Lamp
Light up your entire room with the Super-Bright LED Torch Floor Lamp. High powered Light Emitting Diodes lights deliver 2,100 lumens bathes your room in light, allowing your eyes to see better. Intelligent Design Features make this the ultimate Torchiere Floor lamp. Instant-on, flicker-free LED light reduces eye strain and the fatigue you used to get from old fluorescent bulbs. 5 Color settings lets you control the light from 3000K Amber to 6000K natural daylight . A soft white diffuser prevents sharp glare and our thoughtful multifunction switch on the neck lets you adjust the light for any environment.  Plus you get a remote to control the light from across the room!
Sturdy weighted base and Adjustable Head
Heavy 7 lb. base keeps your lamp upright so pets and kids won't knock it over. 350 degree Adjustable Floor Lamp head lets you position the light exactly where you need it.
Energy Saving Floor Lamp
The Super Bright LED lamp is rated at 50,000 hours, so your new lamp will last 20 years, so you NEVER have to worry about replacing bulbs or re-wiring a ballast (and since it only uses 24 watts of electricity, will save you $100's on your electric bill.)
Dimmable Light
The Super Bright lamp has 5 levels of dimming and 5 color settings so you can customize the perfect light for your mood.  Control from the neck or the handy remote control (included).   
Powerful 2,100 Lumen LED Natural Full Spectrum daylight
Dimmable - 5 settings dimmable to 5% brightness
Light Color - 5 light color settings from warm amber (3000K) great for relaxation to White Sunlight (6,400 K) perfect for reading, lets you match the light to your mood or activity.
Soft white diffuser prevents sharp glare
Energy Efficient Technology uses only 24 watts at full power.
On/Off, Dimmer, Color all controlled on lamp neck.  Plus we include a full-function remote control to adjust light from across the room.  Timer-controlled turn off available on remote.  Lamp will even remember your last setting.
Black Finish
Flicker-Free. Instant-On LED bulbs reduce eye strain.
350 degree adjustable head lets you position light where you need it
Five (5) minutes Easy Assembly 
Floor Lamp height: 70"
Solid Base: 10.6" diameter keeps lamp from tipping over
Slim Design Head: 8.6" diameter x 1" high
Wt: 10 lbs, 6' cord
Please compare features, lumens, CRI, Wattage, price and ***** happy customers. We think you will agree that Super Bright Torchiere is your best LED floor lamp choice.